Kansas 811 JEOPARDY!® Live
Virtual Training & Development Challenge for Damage Prevention Pros.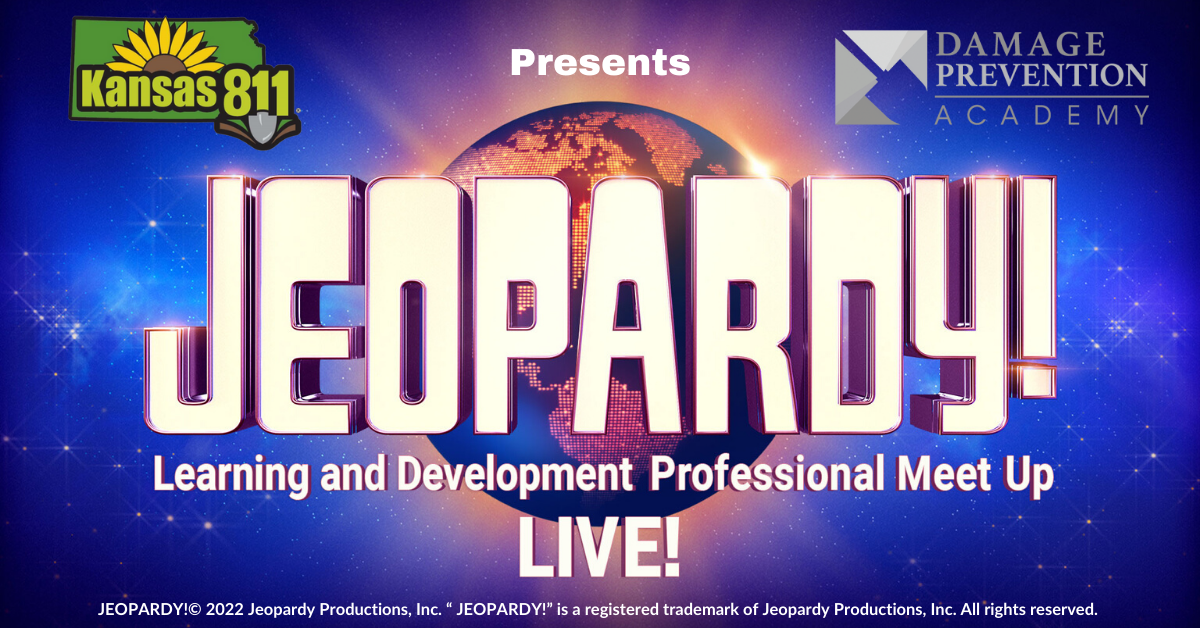 April is "National Safe Digging Month" so please Join us Thursday April 7th at 12:00pm and Wednesday April 13th at 12:00pm CDT, to play a live virtual multiplayer JEOPARDY! game! Topics will include Kansas Safe Digging Best Practices, Kansas Underground Utility Laws, One-Call Operations, Marking & Locating Practices, and Kansas Facts.
Come, Play, Learn, and Win! Challenge your colleagues for our weekly prizes*
1st place – $250 Amazon gift card.
2nd place – $150 Amazon gift card.
3rd place – $100 Amazon gift card.
The top 25 players from each of the first two sessions will be automatically entered into the Kansas 811 FINAL JEOPARDY! round Wednesday April 20th at 7:00pm CDT and will play and learn in a head-to-head challenge for a chance to win epic prizes. Think you have what it takes to take home the title of #1 most knowledgeable Damage Prevention Pro in Kansas?
1st place – $500 Amazon gift card.
2nd place – $250 Amazon gift card.
3rd place – $150 Amazon gift card.
This ridiculously awesome, interactive and engaging live session will show you how Kansas 811 & DPA are raising the bar of damage prevention training using games. In these sessions you'll see how we:
Create a social learning environment for homeowners and excavators.
Facilitate emotional interactions with learning content.
Identify knowledge gaps to implement immediate course correction.
Motivate learners with intrinsic rewards (bragging rights) and extrinsic rewards (a small prize for being the most knowledgeable)
*The top 25 players from the first round on April 7th will be automatically entered in the Kansas 811 FINAL JEOPARDY! round April 20th and are not eligible to play in the second round April 13th. A digital gift card will be awarded to the players ranking 1st, 2nd, or 3rd place, respectively, on the leader board associated with the Jeopardy game. Prizes will be awarded based on the leader board ranking achieved by participants during the game sesssion with a score tiebreaker based on the total time taken by the players to respond to all the clues.
Register in advance for the event here:
After registering, you will receive a confirmation email containing information about joining the event.